Introduction: PDF, a format most of us cannot be more familiar with, has integrated into our daily work or school routine. This portable file format can include wide ranges of data types within the content, such as images, texts and links, making it an optimal format to store and share documents across all platforms.
PDF, if compared with other Microsoft file formats, has a relatively small size. However, it doesn't mean the actual PDF size will remain small. In certain cases, PDFs can be really big, particularly when a large number of images and other content are included in the document.
This could mean real trouble: if you are asked to attach/download a large PDF in/from an email, it can take a really long time to load. As a result, PDF compression seems to be an essential solution with Soda Pdf.
How to Compress PDF with Desktop PDF Programs
SwifDoo
Overall, many PDF tools in the market can support PDF compression to reduce the size of a PDF document. SwifDoo is one of these tools that can help optimize file size within just a few clicks. Here's how to reduce the file size on Windows 10/8/7/XP:

Step 1: Hit the Compression button below the Advanced tab;
Step 2: After the SwifDoo Converter window pops up, add or drag the file you want to compress;
Step 3: Change the compression settings based on your needs;
Step 4: Click Start to finalize compression.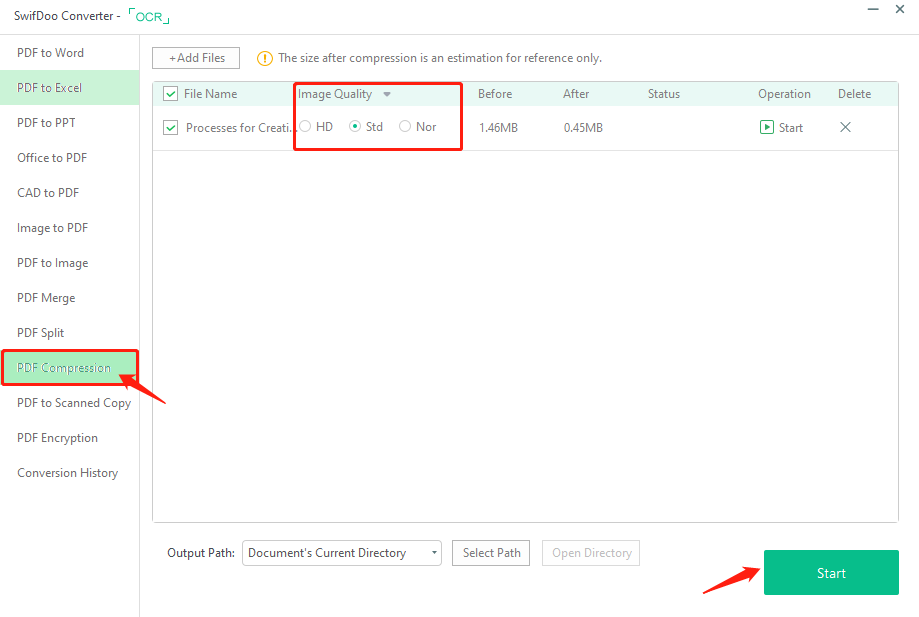 How to Compress PDF on Mac
If you are looking for a solution as to how to reduce the PDF file size on macOS, then this part is definitely what you want. If you work regularly with PDF documents on your Mac devices, you must know Preview, a built-in PDF viewer on macOS. For compressing PDF file size, Preview is the one you can rely on:
Step 1: Open a PDF file with Preview;
Step 2: Click on the File tab to choose Export (do not hit the Export as button);
Step 3: Select the Quartz Filter pop-up menu, then choose Reduce File Size.
How to Compress PDF with Online PDF Programs
Compared to desktop PDF software, web-based PDF tools don't require download or registration. If you belong to this group who is unwilling to register a new account for a totally new product, follow the guide.
PDF Compressor
This is an online PDF comperssor, which can reduce your PDF size for free. The biggest advantages of this platform are: intuitive user interface; multi-language support; and free. Here's how to work with PDF Compressor:
Reasons for PDF Compression
The main advantages of PDF compression can be summarized into three points:
Transfer speed: For most of us, time is limited. Hence, it is unnecessary to waste time uploading or downloading. A large file can dramatically slow down the servers and consequently result in a poor user experience. However, sending and receiving emails with attached PDFs has become a daily routine for most.
A great option is to send smaller files, and evidently, compression is the easiest method to go about tackling the latter. The smaller a document is, the faster it takes to upload and download. A faster transfer speed will not only create a fantastic user experience but greatly contribute to effective communication.
Storage space: We are possibily required to deal with hundreds of PDFs in a paperless office where we advocate to use e-documents. Of course, a single PDF won't occupy too much space. Still, many files exert a great impact on storage space, principally when one's job is closely related to archiving.
However, with compression, archiving has become easier than ever before. PDF compression can efficiently free up server space so as to create more space for all files and documents. Ultimately, one doesn't have to worry about a full disk or file retrieval.
Efficiency: With the assistance of lossless compression, it is possible to optimize the file size without compromising document quality. This facilitates easier sharing of information and makes it convenient to access a PDF on different mobile platforms.
Especially today, where work-from-home is widely accepted and encouraged, productivity and efficiency should be ensured as well. Wherever you are, the ability to obtain easy access to your document is always needed.